Introduction to China Logistics Development
Since establishment in 1955, focusing on the port transport industry business under the motto of an integrated transportation system service, Keihin Koun is happy to propose a distribution scheme that best suits your needs.
As part of this, spotlighting regional transportation projects, China has achieved rapid economic growth in recent years as the "factory of the world", we are happy to introduce our logistics services. Our slogan is "stability, safety, and security", please consider the use of our logistics services between Japan and China & the East Asia region.
Operational Achievements 1

Logistics management of processing trade to China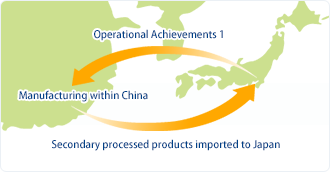 Example: Production logistics of car seat manufacture. Components are exported from Japan to China, within China primary and secondary value add is performed, secondarily processed product imported to Japan, and, until delivery to designated factory, we are able to undertake all whole required logistics activities.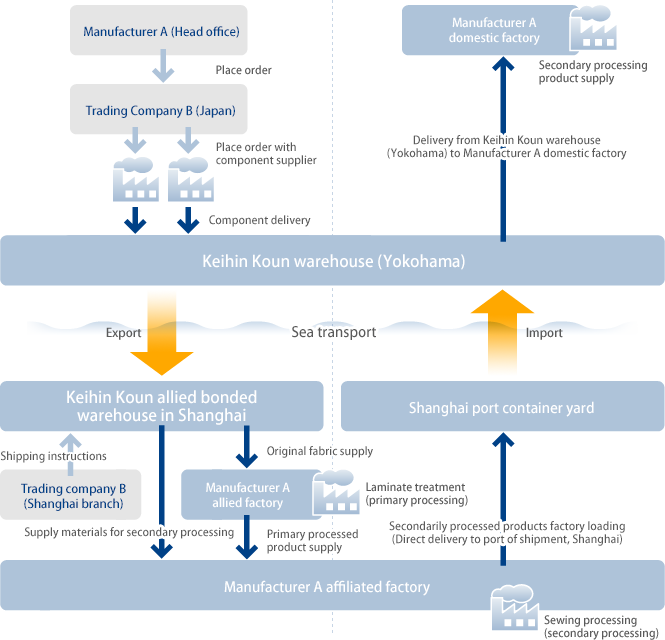 Japanese side: approximately 10 vendor companies, export management from loading and unloading of 50 varieties of items
Operational Achievements 2

Transport of heavy plant and equipment

(Japan → China)

Export and installation of machine press made in Japan

Comprehensive support for first operation from packaging according to cargo shape, sea transport, customs, up to and including land transportation.
Adjustment of delivery and dispatch of equipment machine engineers.
After preliminary loading, equipment is set, leveled, and final positional adjustments are performed.

Operational Achievements 3

Transport of heavy goods and factory equipment

(Thailand → China)

Relocation of machinery and equipment from Thailand to China accompanying new factory establishment in China

Comprehensive support for arranging transport between three countries with Japan at head of operation.
Track record of specialist cargo handling apparatus design for heavy goods use matching factory entrance. (Designed and produced in the Philippines, then delivered to China)
We can offer and support every kind of cargo handling in relation to other equipment and heavy goods.