Logistics, including large scale construction equipment and trucks
We provide comprehensive support with know-how gained through many years of experience.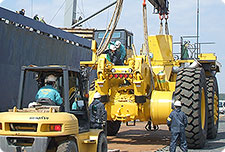 We have a proven track record, not only in large scale construction equipment and large freight vehicles, but also in the handling of heavy objects. Experts with specialized knowledge, we flexibly respond to a variety of needs; with optimized logistics planning, we deliver goods from import and export all the way to the local factory, providing comprehensive support.
Handled goods
Large construction machinery, large trucks, machine tools, precision machines, etc.
Large size cargo (conventional ship) export example
Factory

Receive call from exporter for taking in of cargo.

Transport

Cargo is packed, and carried to bonded storage area.

Bonded area

Cargo is taken to the bonded storage area.

Export declaration

Export declaration, customs and other inspections performed, export permits.

Lading

Carry the cargo to be loaded onto the ship to the quay, and perform lading.

Clear port

Cargo ship leaves port and heads out to sea.
*What is "customs bond"?

Customs bond is foreign cargo, while in the state of unpaid import permit. The fixed place where such bonded cargo is stored is called a bonded area. According to customs regulations, regardless of whether taxable or not, foreign cargo and cargo having received export permission are subject to customs bonding.

*What is "bonded area"?

With regards to cargo imported from foreign countries, this is the place where it kept while customs duty and other taxes are not applied. Also this is the place for export and import cargo customs procedures (customs clearance formalities).
Key features
Flexible order receiving style

We deal with various heavy goods, and can propose an optimal logistics plan for each and every request.For example ...

Comprehensive support from packaging according to cargo shape, sea transport, customs, up to and including land transportation.
In case where assistance up to setting up of machines is required, we will organize and dispatch specialist engineers.
According to the entrance of the factory, design of special equipment for loading and unloading heavy objects.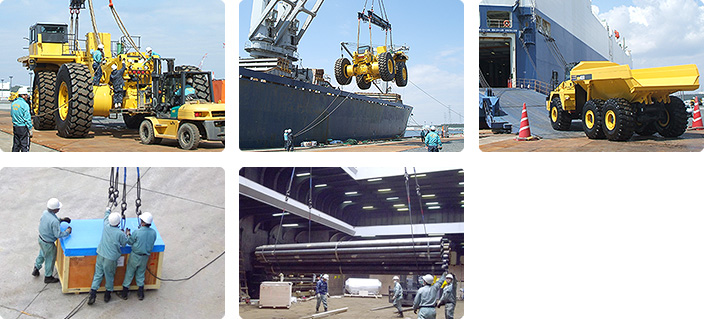 Frequently asked questions
Q. With regard to customs duties (including related services), how will charges be set?

A. Rates are set according to the Customs Business Act.
Q. I want to export construction machinery, about how much yard space do you have?

A. At Honmoku pier and Daikoku pier, we maintain about 4,400m² of terminal space, and about 54,000m² of open freight storage yard space.


*Terminal: Warehouse for use of goods processing at port.
*Open freight storage yard: Uncovered facilities used for the same processing as above.
Q. Are there cranes available for my use?

A. We offer the most suitable operation for our customer needs.
Q. I would like to export goods, how can I do this?

A. From taking custody of cargo and reservation of ship space, all the way to customs clearance and carrying on to the ship we offer a continuous non-stop operation. Of course, if you make the necessary procedural and document preparations, and deliver to our designated yard, we can take it from there.
Q. What do I need to be aware of concerning lading by crane of large construction machinery?

A. When working with cranes, it is very dangerous and where cargo is suspended incorrectly loss of balance can occur. In case of special cargo, we beforehand confirm with our customer the crane hanging and safeguard points.
Q. I have cargo with a height of 5 meters, will it be a problem to ship and transport?

A. With cargo of particularly large height or width, operation will proceed after the transportation route right up to the ship itself has been confirmed.
Q. I would like to export machine facilities to a foreign factory, until what point can I rely on your help in this operation?

A. In our company in the past we have completed shipment to Asian countries such as China and Thailand. Upon confirming the details of destination, product, and work content, we will investigate whether the requested work is possible via our international network.
Q. When disassembling and exporting large construction machinery, can I request you to do the assembly work at the export destination?

A. From secure storage location at destination, to arranging for assembly by professional engineer, we can support it all in one operation.