Warehouse supporting four temperature classes (room, fixed, refrigerated, frozen)
Daikoku Pier F&C (Frozen & Chilled) Distribution Center
Substantial facilities, meeting the various needs of our customers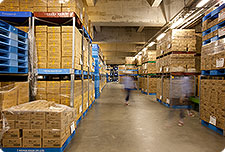 Daikoku Pier F&C (Frozen & Chilled) Distribution Center is a cold storage warehouse able to manage goods of four different temperature bands. In the warehouse, activities such as sorting and distribution processing operations can be carried out, enabling you to handle a large variety of logistics operations. Our knowhow and facilities allow you to gain the best advantage of the freshness of your product.
Goods handled
Frozen foods, animal products, marine products, agricultural products, and the like.
Frozen cargo (container) import illustration
Port entry

Cargo ship from overseas enters port.

Container yard

Containers are unloaded from ship.

Bonded transport

From the container yard, containers are transported to the bonded frozen warehouse, as foreign cargo.

Bonded area

Cargo is removed from the container, and, after quantity and other confirmations are carried out, placed into the bonded frozen storage.

Import declaration

Import declaration and various checks are carried out, and after payment of customs duties, import permits are received.

Delivery

Cargo is delivered to the importer's designated location.
*What is "customs bond"?

Customs bond is foreign cargo, while in the state of unpaid import permit. The fixed place where such bonded cargo is stored is called a bonded area. According to customs regulations, regardless of whether taxable or not, foreign cargo and cargo having received export permission are subject to customs bonding.

*What is "bonded area"?

With regards to cargo imported from foreign countries, this is the place where it kept while customs duty and other taxes are not applied. Also this is the place for export and import cargo customs procedures (customs clearance formalities).
Key features
Flexible order receiving style

In order to handle the four temperature ranges of room, fixed, refrigerated, and frozen, you can manage various temperature ranges centrally.

Room temperature: ambient temperature conditions
Fixed temperature: 10 ~ 20℃
Refrigerated storage: 0 ~ 5℃
Frozen storage: -25 ~ -18℃

24 hour operation possible for sorting and distribution processing work

In the warehouse sorting and various distribution processing operations (such as re-packaging, re-wrapping, label creation, label pasting) can be carried out.

Fulfilling logistics facilities

34 sets of refrigeration power outlets have been installed, enabling provision of power supply to refrigerator cars and containers stacked up on standby.
Forklift trucks ranging in size from 1.8 tonne through 20 tonne are stationed ready for use.
In the same land area 4000m² (43,000sqft; 1200 tsubo) of room temperature terminal space has been established, allowing sorting for both frozen and room temperature to take place at the same time.


*Terminal: warehouse used for freight handling, cargo sorting.

21 locations for freight loading and unloading.
Truck tractors stationed ready, enabling efficient handling of containers.
Full array of in-warehouse transportation facilities.

Qualification of security and reliability

We officially hold government authorizations such as "Bonded warehouse", "Bonded shed", and "Animal product import inspection designated area".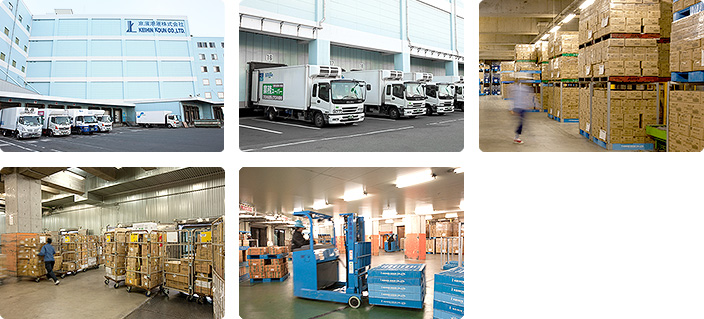 Frequently asked questions
Q. I'd like to store a variety of products, can I do this?

A. We have facilities for storing products in four different temperature ranges. We are able to store and manage in line with your needs.
Q. I'd like to have import clearance and delivery performed, is this possible?

A. You can work with our in-house customs clearance. In addition, from charter flight to small cargo consolidation, arrangements can be made.
Q. I'd like to perform loading and unloading even at night, weekends, or public holidays. Is this ok?

A. This will be a special request, however we will be available to meet your need.
Q. I'd like to reduce the cost of processing, storage, and distribution of products. How can this be achieved?

A. By using our frozen goods warehouse, the full sequence of storing, customs clearance, safekeeping, sorting, and distribution processing can be performed at the one location, reducing cost and time.
Q. I'd like to reduce the cost of processing, storage, and distribution of products. How can this be achieved?

A. We can do a variety of distribution processing activities. At your choice, preparation and pasting of labels is possible.
Daikoku Pier F&C (Frozen & Chilled) Distribution Center : Facilities Summary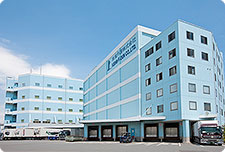 Site area
10,014m²
Warehouse
1F
7,300 tonne (frozen)
3,941m²
2F
5,975 tonne (frozen)
3,229m²
3F
5,975 tonne (frozen)
3,229m²
4F
5,975 tonne (frozen)
3,229m²
5F
5,975 (frozen/chilled)
3,229m²
Total
31,200 tonne (frozen)
16,857m²
Bonded terminal
L7
3000m² (900 tsubo)
L8
1000m² (300 tsubo)
Sorting and processing area
2F - 5F
506m²
1F
959m²
Cargo handling facilities
Elevator
2 units
5 tonne / 1 tonne
Lifter
4 units
1.5 tonne
Autolator (vertical transfer machine)
2 units
2.5 tonne
Dog shelter
21 units
7 units with leveler
Reefer container power outlet
34 units
(Platform: 220V – 2 outlets / 440V – 20 outlets)
(Parking area: 220V – 1 outlet / 440V – 10 outlets)
(Platform side: 220V – 1 outlet)